"The Crucible" by Arthur Miller comes to Newsome High School with a modern twist
Cast members Scot Davis and Hannah Wiles [middle two] as Gilet Corey and Elizabeth Proctor, respectively. This photo was used as a prop on set as a family photo.
   On Nov. 4, 5 and 6, "The Crucible" by Arthur Miller will come to Newsome High School with an exciting, modern spin on the classic production.
   The show will be performed in Newsome's auditorium. Tickets are $10 for general admission and $5 for students. The performances on Nov. 4 and 5 are at 7 p.m. and the Nov. 6 show is at 2 p.m.
  Cast members consist of Seth Scaringe as Reverend Parris, Camila Gonzalez as Betty Parris, Ashlyn Lopez as Abigail Williams and Caroline Peacock as Samantha Walcott
   Tech leads include Alyssa Rack as Sound Director/Lead, Quincy Reath as Hair and Makeup Lead, Brielle Pulli and Ava Muzzy as Costume Leads, Megan Cotner as Property Master and Addison Heath as Front of House Manager.
   The 1953 play uses the Salem Witch Trials as a metaphor for McCarthyism, a time in the early 1950s where Americans, specifically Senator Joseph McCarthy, were hypervigilant of socialist and communist individuals. This concept, a product of the Second Red Scare, came soon after World War II when citizens were afraid of spies infiltrating the government.
   Through this McCarthyism era came propaganda and massive accusations towards entertainers and politicians alike. They were ostracized from society and made unable to work and perform. Similarly, there were such unsubstantiated accusations towards women during the Salem Witch Trials. Miller uses this to allegorize the Second Red Scare and draw parallels between the two time periods.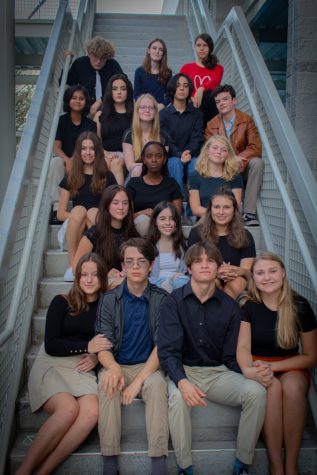 Usually, the play takes place in Salem, Mass.; however, this rendition of "The Crucible," is set in Washington, D.C. Theatre director Chad Cornwell says it was an artistic choice to have the play set in the 21st century, as elements of McCarthyism are still prevalent today. Having the production be in the nation's capital allows students to extensively explore the politics of such matters.