Newsome lacrosse district championships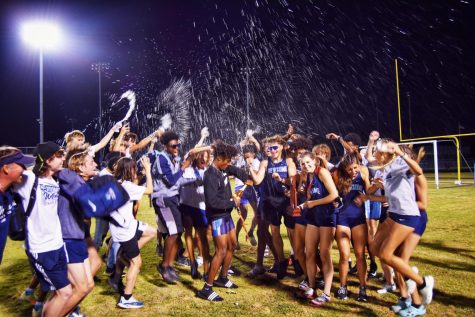 On April 14, Newsome Boys' Lacrosse became the 2A District 9 champions beating Bartow High School 18-2. Newsome has continued their district winning streak and dominated the competition. Going into the FHSAA Boys Lacrosse State Championship Tournament, the boys have all the momentum needed to make a memorable season.
   The team had an amazing regular season with a record of 15-2. During the regular season it would not be surprising to see a Newsome win by 20 points. Losses during the regular season were to Cardinal Mooney and Plant High. 
   Cardinal Mooney was a close game ending in double overtime with a final score of 7-6. The Plant game was not the same story, with Plant beating Newsome 17-5, the biggest loss in the season.
   Plant will be Newsome's toughest opponent this season with the two teams most likely going to face off again in the FHSAA Class 2A Regionals Finals. Last season Plant beat Newsome in the regional finals by 12 points, but this year it looks like it can be a different story. 
   "This year I just feel like the team is stronger and more well-rounded compared to last year's team. We had phenomenal athletes from last year who have only improved," said sophomore midfield Dillion Basquill. 
   Basquill's statement concerning team growth is evident with studs like senior goalies Dominic Goodarzi and Jay Turner playing some of the best defense Newsome has ever seen. Newsome's goalies have the formula figured out and it shows. Without them, the team's success may not be as apparent. 
   Additional help also comes from University of Utah commit Luke Haley who plays both midfield and attack, along with the help of Shuan Blackburn who also plays both midfield and attack for Newsome. Both these players have currently scored a combined of 150 points according to MaxPreps this season, which is 40 percent of the total points scored by the team this season so far. 
   After winning the district title on April 14, the boys played against Alonso in the FHSAA Class 2A Regionals Quarterfinals on April 23. Not a surprise, but Newsome beat Alonso 12-10 with an astounding performance by Goodarzi, who really clutched up in the final stretch making some needed saves.
   At the time of writing, Newsome is set to face off against Mitchell High School, a team Newsome has already beaten in the regular season, for the FHSAA Class 2A Regionals Semifinals. If Newsome keeps on performing like they have been, they are bound to make another appearance in the regional finals. 
    Newsome Lacrosse is more than just a sports program; it is a lifestyle. A lifestyle that harbors winners under Coach Eric Blackburn. In the coming weeks Newsome is going to see some of that winning take place, go wolves.