Ketanji Brown Jackson: the first black woman on the supreme court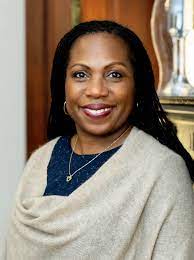 On April 7th, suspense in the federal government disintegrated as the U.S. Senate confirmed Kentanji Brown Jackson as the first black woman to serve on the highest court of the land by a vote count of 53-47.
   In order for a new judge to serve, a current judge must retire from the position. The president will then nominate a candidate to fill the vacancy. The U.S. Senate must vote on candidates until one is approved by the majority.
   Jackson grew up in Miami, Florida but began her political career after graduating from Harvard Law School and serving as a federal public defender and vice chair of the U.S. Sentencing Commission. Afterwards, President Barack Obama appointed her to serve as a U.S. District Court judge; Jackson currently serves in the U.S. Court of Appeals for the D.C. Circuit.
   The last time someone was nominated for the court was in 2020, when former Supreme Court Judge Ruth Bader Ginsburg passed away leaving a vacancy on the Supreme Court. Former President Trump nominated Supreme Court Judge Amy Coney Barrett, whose confirmation was extremely controversial as it was taking place right before the Presidential election.
   Jackson will be replacing Supreme Court Judge Stephen Breyer, a liberal judge who announced that he would be retiring at the end of his court term. Upon this announcement, President Biden nominated Jackson on February 25 to step into his position.
   The final count in the Senate included 50 Democrats and a mere three Republicans: Sens. Susan Collins of Maine, Lisa Murkowski of Alaska and Mitt Romney of Utah. In fact, directly after Vice President Kamala Harris announced Jackson was confirmed, applause erupted in the room while several Republicans can be seen on video leaving the room.
   In the weeks prior to her confirmation, several Republicans in the federal government vocalized that they disapproved of Jackson. CNBC stated that "Republicans tore into Jackson's judicial record, arguing that her rulings show a willingness to legislate from the bench."
   The political and social implications of this confirmation are huge; shortly after her confirmation, Biden tweeted that this "was a historic moment for our nation" as Jackson's confirmation will be a step forward in representing America's diversity in the federal government. 
   A total of 115 justices have served in the court: Jackson being the 116th, and the first black woman. The political balance of the Supreme Court will remain the same, with a six to three Republican majority. However, many highlight that Jacskson has something important to bring to the high court, as she will be the only sitting judge with experience in being a public defender.
   Jackson is expected to start serving in the summer of 2022. At the age of 51, she has a lot of potential to bring to the U.S. Supreme Court as she has decades of time to serve and represent the diversity of America.