Newsome Wolfpack Theatre to perform one-act "Bob's Date" on Dec. 1
Poster for Bob's Date by John Shanahan. The cast started their production very soon after the start of school, as they did not have time to waste while getting ready for their competition.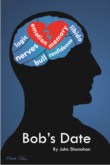 On Dec. 1 at 6:30 p.m., Newsome Wolfpack Theatre will perform the one-act production "Bob's Date" by John Shanahan in Newsome's auditorium. 
  The plot may ring a bell to those familiar with Pixar's "Inside Out," as it showcases the emotions within Bob as he, after years of being single, goes on a first date. Despite the show focusing on Bob's inner dialogue, it does not actually feature Bob as a character.
   It will feature Caroline Peacock as Nerves, Seth Scaringe as Logic, Daxton Chapell as Libido, Jake Perez as Bull, Hannah Wiles as Confidence, Ashlyn Lopez as Emotion and Kassidy Curnutte as Memory. Tickets are $5 and can be purchased at the door and pre-ordered online.
   Although it will be performed for the general public to see on Dec. 1, the main purpose of this production is to present it at the District 9 One Act Festival during the Florida Theatre Conference. 
   The play's technical side consists of Christopher Blazer as Assistant Director and Stage/Set Manager, Eden Yao-Kumah as Sound, Ikaika Bryant as Lights and Brielle Pulli and Quincy Reath as costumes/hair/makeup. 
   "Bob's Date" is a "one act," meaning it is not as long as the typical production. Its running time is only about 40 minutes.
   There will only be one opportunity for those interested to see this production, so do not wait to get tickets. Go to https://newsomewolfpacktheatre.ludus.com/ to buy tickets and see the other upcoming productions Newsome Wolfpack Theatre has to offer.