A Review of the new Mortal Kombat movie
The official poster for the Mortal Kombat movie, which reveals rivals Scorpion and Sub-Zero. The two are some of the most noticeable characters within the franchise, and play important roles in the movie.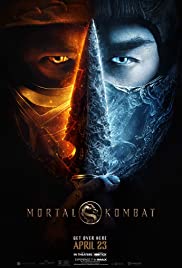 The third live-action Mortal Kombat has officially been released on streaming platform HBO Max and in movie theaters around the country. The newest installment of the video-game series has no correlation to the other two that were released in the 90s, bringing in a whole new take on the game to bring it to life. The movie features original characters such as Scorpion, Liu Kang, Sub-Zero and more, while also bringing in new ones like Cole Young. While the movie is not the best when it comes to things such as dialogue and plot, the fighting makes up for it, making it a very entertaining one to watch.
   The most recent Mortal Kombat movie to be released before 2021's was 1997's "Mortal Kombat: Annihilation." Since then, a lot of advancements in filming technology have been made, and one is able to clearly see this in this year's Mortal Kombat. The fight scenes are better and more realistic than ever, really packing a punch for the audience in the gore aspect. Characters like Goro and Kano and their abilities look great, along with the environment and other CGI. The fatalities and other iconic moves from characters also look very good, such as Liu Kang's Bicycle kick and one of Kung Lao's most disgusting fatalities. Overall, everything fighting-wise about this movie is great, but it certainly lacks in other areas.
   The plot is not the strongest, in which it still leaves some questions at the end about what just exactly happened. The relationships the characters form are not strong at all, sometimes making conversations between characters a little awkward for the audience. One of the main characters, Cole Young, is a new face introduced to the series and his ability and overall personality is not very good either. One thing that was interesting about the story though, was the explanation on how Mortals got their powers and the whole aspect of the tournament, which was done very well. Other than that, the story, relationships and dialogue were lacking a lot, but that is to be expected from a video game movie.
   In conclusion, this Mortal Kombat movie could be given a 6-7/10. Though things like the plot weigh it down a little, the fighting really makes up for it. Mortal Kombat is a video game based on brutal fighting with no mercy and a lot of gore, and they captured that perfectly within this movie. This is definitely one of the best video game movies to be released in recent times, and it might stay that way for a while.