Newsome students Opt for a D.I.Y prom
Juan Zúñiga, Celine Carpio, Natalia Alverez, Noah Hirji, Andrea Rodríquez, Nikole Kale and Shamar Williams pose all together. They all coordinated to wear black for their at-home prom.
  This unfortunate year did not leave Newsome upperclassmen much of an opportunity to experience the excitement that many did in the past. With prom, homecoming and many other typical activities being canceled district-wide, students had to improvise by throwing a D.I.Y prom. 
   The opportunity to dress up and take photos does not come frequently to students, so this automatically became a must for those who did not want to miss out as last year's seniors had. Although, unlike a typical prom, it was not affiliated with the school in any way. This meant that teens had to devise a plan altogether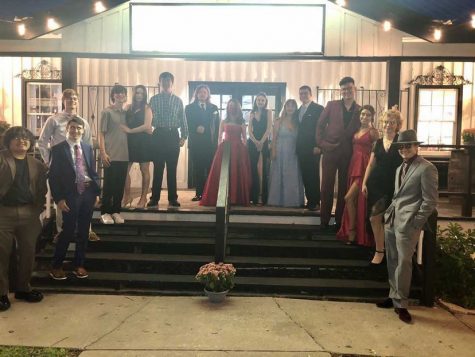 and pool in scraps of money.

   Some opted to throw it in a non-traditional way, at home. "We made sure to coordinate outfits with each other, we decorated a friend's house for an evening, we made brunch reservations, dinner reservations and of course, designated picture locations were coordinated," said Shamar Williams, a Newsome junior who threw his own prom with his friends.

  Others opted to go the more traditional route, designating a formal location for the party. In fact, many venues, such as the White Oak

Nick Prokopowics

The cottage has been open to book for a private party. D.J. 's and caterers are still looking for jobs amidst the pandemic, and this prom-styled private party came to the rescue for many, saving jobs and memories.­

   Despite the fact that these proms were not typical, they seemed to do the magic for those who threw them. "Honestly, we all agreed that although our prom wasn't 'normal,' we preferred it as it allowed us to be in full control of how we wanted to spend our prom. Each activity, each bit, each person, each method of transportation, etc. was one-hundred percent by all of us," concluded Williams.

   The control students had on their parties might be the factor that motivates them to continue throwing prom-like gatherings, even without a pandemic. Without the fuss of bad music, awkward dancing and the enjoyment of having a group of close friends and a more personalized experience, the prospect of throwing a D.I.Y. prom seems to be an endearing option for the future.