Nationals take home first ever Series title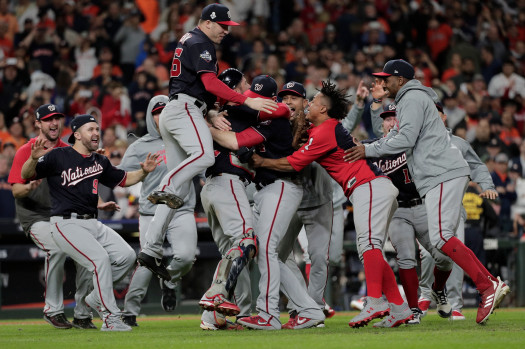 This year marks the first time the Washington Nationals have ever won a World Series, and it was a stunning comeback season for the franchise.
The Nationals were given a 1.5 percent chance of taking home the title in May, with a win-loss record of 19-31. After this grim prognosis, the team continued on a rollercoaster of a year, stumbling through the season, the playoffs and then the Series. Fans were left dizzy yet ecstatic.
On Oct. 15, the St. Louis Cardinals and the Nationals faced off in the fourth game of the National League Championship Series, and the Nationals successfully completed their four-game sweep, officially earning a trip to the World Series. Not long after, they learned their opponents would be the Houston Astros, and the game was on.
The Nationals won the first two games, which were both played at Minute Maid Park in Houston. The third game was at Nationals Field, and surprisingly the Nationals lost for the first time in the Series at home. They continued this trend, losing Games 3,4 and 5 while in D.C.
The Series was tied 3-3 going into Game 7. Max Scherzer was the starting pitcher for the Nationals, and it was a miracle that he was on the field. He was forced to scratch his Game 5 start due to a bout of severe neck spasms, and required a cortisone shot and plenty of rest to get back on the mound.
Though somewhat recovered, Scherzer was off his game and the Astros led 2-0 at the end of the fifth inning. Lefty Patrick Corbin and right-hander Daniel Hudson rounded out the Nationals' pitching with four scoreless innings; meanwhile, the Nationals still had to catch up in terms of runs.
The two events that sealed the deal for the Nationals were the removal of Zachary Greinke, the Astros pitcher, and the go-ahead home run from Howie Kendrick. Greinke had a one-hitter in the works until he gave up a home run and a walk. There are speculations that had Greinke stayed in the game; the Astros may have taken home the title.
In the end, the Nationals won Game 7 with a score of 6-2 and celebrated with a rowdy victory parade in D.C. on Nov. 2. Hopefully, the franchise can come back next season with the same perseverance and spirit that they exhibited during the Series.