2020's Presidential Candidates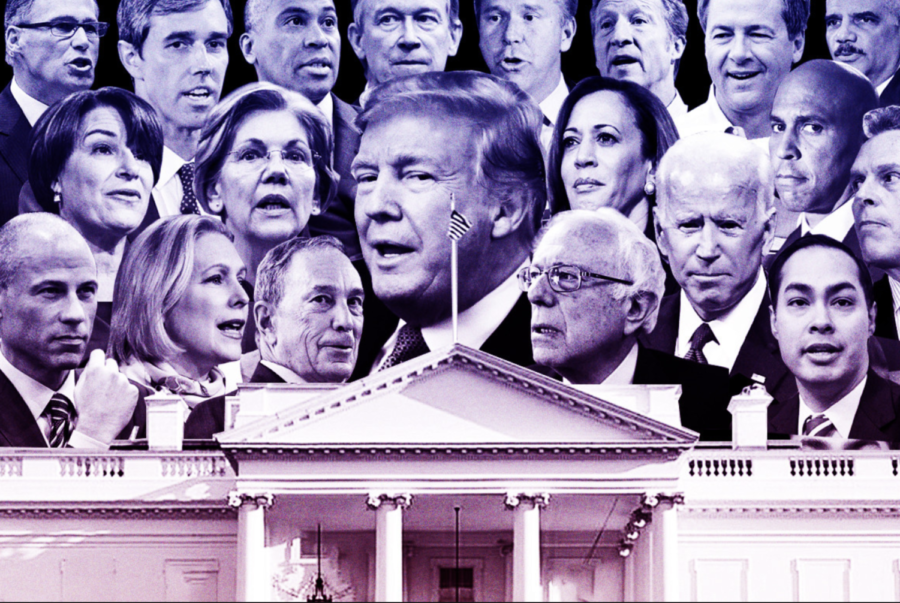 The 2020 election seems as though it is still a long way off, but for presidential candidates, it is coming all too soon. Twelve people had officially announced their candidacy as of Feb. 1, and it looks like competition on the Democratic side of things will be fierce.
Of the twelve candidates, ten are Democrats, and more are sure to join the fight to push President Trump out of office. Former Maryland Representative John Delaney was the first Democrat to commit to a campaign. He was a U.S representative from 2013 to 2019 and decided to run in July of 2017. Delaney claims he has "an original approach to governing" and an original economic policy.
In Nov 2017, Andrew Yang, an American entrepreneur and the founder of Venture for America, announced his candidacy. Venture for America is a fellowship program for recent college graduates who want to become leaders or entrepreneurs. Yang's campaign will mostly focus on providing every American with a $1000 monthly income.
The next person to announce their candidacy was West Virginia State Senator Richard Ojeda. Ojeda resigned from his position as a state senator to focus on the 2020 campaign but dropped out of the race on Jan 25. He found that big money still dominates politics and that if he challenges influential people, media and donors will turn against him.
Massachusetts Senator Elizabeth Warren announced her intention to run in Dec 2018. She has already begun recruiting top staff in crucial primary states such as New Hampshire and Iowa. Warren has recently come under fire for falsely identifying herself as an American Indian on government documents. She has since publicly apologized for her insensitivity. She plans to continue with her campaign, stating that "…nothing about my background ever had anything to do with any job that I got in any place."
On Jan 11, Hawaii representative and Iraq War veteran Tulsi Gabbard announced her candidacy in an interview on CNN. She has at times advocated for the progressives, but her position on foreign policy has alienated her from the rest of her party. She preaches tolerance for dictators, and strongly disagrees with many of Trump's policies, such as the travel ban and the decision to pull out of the Iran Nuclear Deal.
Juliàn Castro, the former Housing and Urban Development Secretary, declared his candidacy on Jan 12. While he was the Secretary, the HUD expanded lead safety protections in federally assisted housing, worked to reconstruct communities affected by natural disasters, and fulfilled the Fair Housing Act. Castro also served as the mayor of San Antonio, Texas for five years.
After serving as a New York Senator since 2009, Kirsten Gillibrand announced the formation of an exploratory committee for President on Jan 15. She has been a strong progressive voice in the Senate, advocating for stricter policies regarding sexual assault in the military, decreasing gender and economic inequality, and lowering healthcare costs.
California Senator Kamala Harris announced her candidacy on Jan 21 via her Twitter account. She is a first-term senator, which is a similar position to that of former President Barack Obama when he first ran in 2008. Before being a senator, Harris was California's attorney general.
Pete Buttigieg is the youngest Democratic entrant so far, at only 37 years old. He is also the only openly gay candidate. Buttigieg is currently the mayor of South Bend, Indiana, and he announced his candidacy through a video. "We're the generation that lived through school shootings, that served in the wars after 9/11, and we're the generation that stands to be the first to make less than our parents unless we do something different," Buttigieg said in the video.
Motivational speaker Marianne Williamson was the tenth Democrat to jump in the race. She writes self-help books rooted in New Age spirituality and has been heavily involved in AIDS awareness and advocacy efforts.
New Jersey Senator Cory Booker joined the race on Feb 1. He is known for his liberal voting record and emphasis on criminal and social justice issues. He played a crucial role in passing a massive bipartisan criminal justice bill, the First Step Act, in December.
Finally, Republican incumbent President Donald Trump will be seeking reelection in 2020. President Trump has been fundraising for this campaign since 2017 and has managed to raise over 100 million dollars.