Quinton Aaron: "The Blind Side" star and anti-bullying advocate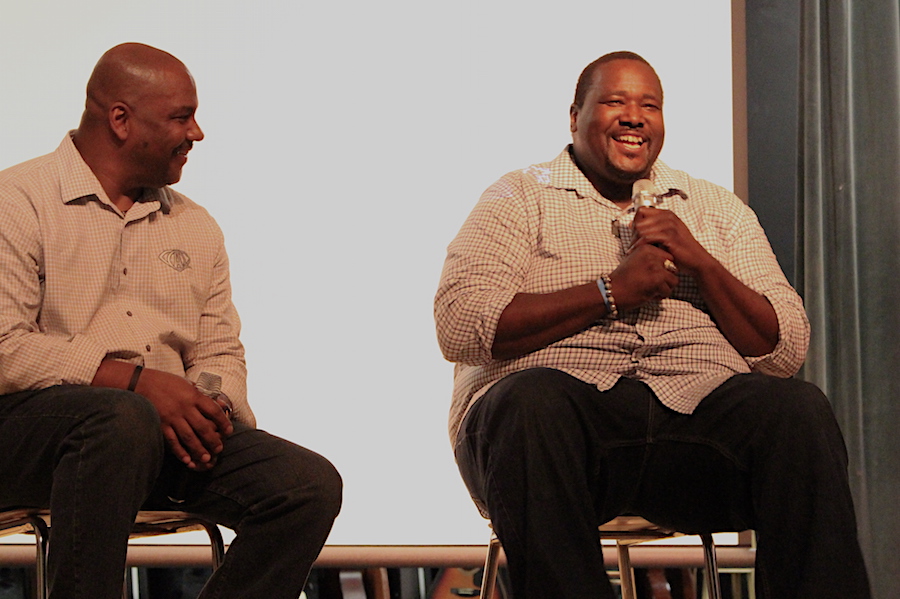 Quinton Aaron flew into Tampa late Thursday night after finishing the filming of his latest movie role in Cranial Sacral. Tampa became Aaron's home about five and a half years ago after he decided "it was time for a change," and is also the headquarters of the Quinton Aaron Foundation.
The following morning, Aaron was at Newsome High School to promote the goals of his anti-bullying foundation by addressing students in assemblies, interacting with them at lunches, and conversing with the parents of the students later that night. He says he chose to come to Newsome because "we felt we could do something that would work towards a better and brighter future for the kids here at Newsome."
Aaron's goal with his foundation is to prevent bullying, address it when it occurs, and teach students to be more resilient. "I want to get kids to look at things differently. The reality is that we're never going to be able to control what kids say or do." His hope is that his efforts will help to minimize the impact of bullying.
Aaron also hopes in the future to set up social media ambassadors who will have direct access to him and his foundation. These ambassadors will be tasked with reaching out to fellow students, and posting photos with information on their new friends, showing that they are making real connections with those around them, and allowing others to do so as well through viewing the posts.
Aaron feels that the fame he attained from starring in "The Blind Side" has allowed him to share his message, "I do believe that "The Blind Side" was the blessing that got me where I am today and gave me the platform that I have to do what I do today."
Aaron has plenty of role models in the film industry, Will Smith, Denzel Washington, John Travolta, Harrison Ford, and Meryl Streep to name a few, and of course, Sandra Bullock, whose movies Aaron had seen every one of, before eventually meeting and co-starring with her in "The Blind Side". "There's a lot of people I look up to in this business, because I get a sense of how hard it actually is and how much work goes into it."
From a young age, Aaron knew that he loved film, "I watched a lot of TV and movies that led me to believe I wanted to be the characters in those movies. After driving my mom crazy pretending to be the characters around the house, she put me in drama."
Aaron found he had a passion for theatre, not only because of his vivid imagination which led him to want to take on the roles of other characters, but also because it served as a coping mechanism for him during hard times when he dealt with bullying himself.
"The main thing I [did] was I never stopped believing in myself. I never stopped focusing on my goals and my dreams. I had that drive that said no matter what these people say about me, I'm going to do what it is I feel in my heart I'm supposed to do. And that's what I want kids to focus on. That's what I want them to take away from my message."
Aaron accepts donations on the Quinton Aaron Foundation website, which go towards covering the costs of his visit to schools that cannot afford to pay for it themselves.