The aftermath of Irma's wrath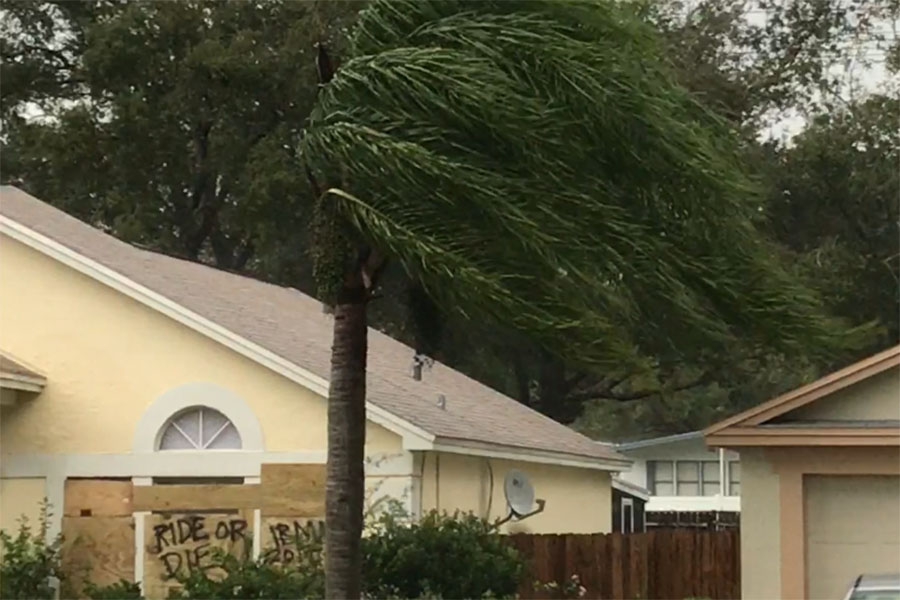 Hurricane Irma had everyone preparing for the worst as the storm came racing towards Florida as a category five. Windows were boarded up, sandbags were distributed, and people were forced to leave their homes to seek safety at shelters all throughout the bay area. Lithia residents braced for the worst and, along with millions across the state, stocked up on items such as food, water, and gasoline in case of shortages.
Senior Maddie McAneny took part in the usual preparations along with having batteries, portable chargers, and flashlights. "We brought all of our outdoor furniture inside, parked our cars parallel to the garage door, and even bought some sod so my dog could use the bathroom in our garage," shared McAneny.
However, a slight deviation from Irma's projected path kept the Hillsborough area from being affected by the brunt of the damage.
Irma did not leave the county unscathed though. Within four hours of the storm hitting Tampa Bay, 1.3 million homes lost power, according to CNN. The Tampa Bay Tribune adds to this statistic by calculating a total of 6.7 million outages across the entire state on Monday afternoon.
Junior Kennedy Giannitte's house lost power for 48 hours because of the storm. "We stayed at home. We had a generator, so we were able to power our phones but the heat was pretty bad," said Giannitte.
Another Newsome student used this disastrous event to help people by volunteering at The South Bay Hospital. Junior Ashley Ullom and her mom "went to the hospital and slept there overnight to take care of people who got injured during Irma."
Another effect of this storm that wasn't entirely awful was the cancellation of school in Hillsborough county for an entire week after the hurricane hit. Public schools were closed on Sept. 8 and reopened Sept. 18, giving students a total of seven days off.
"I was so glad to hear it [that school was canceled] because it's been nice having all this unexpected free time to work on things I don't normally have time for so I was pretty happy," said McAneny.