Kitchen and Craft: Recreating Milk Bar Cookie Tins
On Kitchen and Craft, we recreated the Milk Bar Cookie Tin. This is that recipe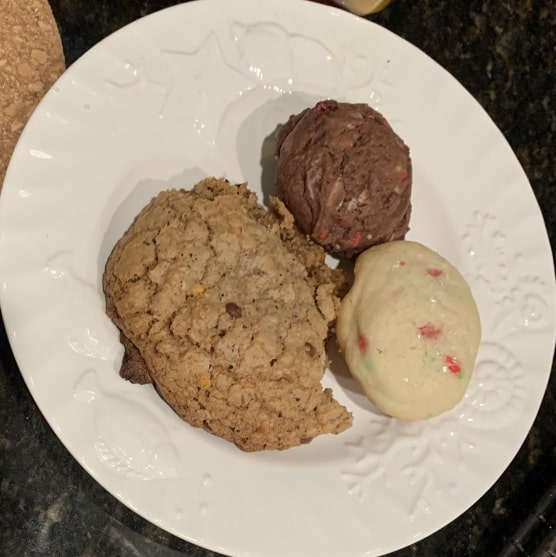 New York City has set the bar for trendy things. Anything that is anything nowadays probably had its start in New York. Milk Bar, a bakery in (you guessed it) New York, has become a very (you guessed it) trendy bakery around the world. The bakery first made a splash in 2008 with the Compost® Cookie, Cereal Milk Soft Serve Ice Cream and its famous Milk Bar® Pie. There are 16 locations with shops in New York City, Los Angeles and Toronto. Its latest masterpiece has been its Birthday Cake. 
   I have been obsessed with Milk Bar ever since Christina Tosi, the owner of Milk Bar, made her video on Tasty. In that video, she made a sort of PB&J cake, which sounded interesting. However, that is not what this post is about. This post is about one of the most aesthetically pleasing products on its website: the Cookie Faves Tin. Today, we are recreating that product.
   This tin is made up of 4 different cookies: the Compost Cookie, the Cornflake Chocolate Chip Marshmallow cookie, the Chocolate Confetti cookie and the Chocolate Confetti cookie. We are going to make each of them.
Cornflake Chocolate Chip Marshmallow Cookie:
What you will need:
1 c. unsalted butter softened

1 c. white granulated sugar

1 c. light brown sugar, packed

2 tsp. Vanilla

2 eggs

3 c. flour
¾ c. mini chocolate chips
Directions:
Preheat oven to 375º. Line a baking sheet with parchment, set aside.

Sift together flour, baking soda, baking powder and salt.

In a separate bowl cream together butter and sugars until combined.

Add in marshmallows, cornflakes and chocolate chips.

Roll 2-3 Tbs. out onto the baking sheet.

Bake for 8-10 minutes, or until golden brown.

Let cool before eating.
The Compost Cookie: Christina Tosi
What you'll need:
1 c. butter 

1 c. granulated sugar

⅔ c. light brown sugar

1 egg

½ tsp vanilla extract

1 ⅓ c. flour

½ tsp. baking powder

¼ c.  baking soda

1 tsp. kosher salt

¾ c. mini chocolate chips

½ c.  mini butterscotch chips

½ c. crushed graham cracker crumbs

⅓ c. old-fashioned rolled oats

2 ½ Tbs. ground coffee

2 c. potato chips

1 c. crushed mini pretzels
Directions:
Combine the butter and sugars in the bowl of a stand mixer fitted with the paddle attachment and cream together on medium-high for 2 to 3 minutes. Scrape down the sides of the bowl, add the egg and vanilla and beat for 7 to 8 minutes.

Reduce the speed to low and add the flour, baking powder, baking soda and salt. Mix just until the dough comes together, no longer than 1 minute. Scrape down the sides of the bowl with a spatula.

Still on low speed, add the chocolate chips, butterscotch chips, graham crust, oats and coffee and mix just until incorporated, about 30 seconds. Add the potato chips and pretzels and paddle, still on low speed, until just incorporated. Be careful not to over mix or break too many of the pretzels or potato chips. You deserve a pat on the back if one of your cookies bakes off with a whole pretzel standing up in the center.

Using a 2 3/4 oz ice cream scoop (or a 1/3 cup measure), portion out the dough onto a parchment-lined sheet pan. Pat the tops of the cookie dough domes flat. Wrap the sheet pan tightly in plastic wrap and refrigerate for at least one hour, or up to one week. Do not bake your cookies from room temperature— they will not bake properly.

Heat the oven to 375°F.

Arrange the chilled dough a minimum of four inches apart on parchment- or silpat-lined sheet pans. Bake for 18 minutes. The cookies will puff, crackle and spread. After 18 minutes, they should be very faintly browned on the edges yet still bright yellow in the center. Give them an extra minute or so if that is not the case. Cool before eating.
Birthday Cake Cookies:
What you will need:
2 ¾ c. all purpose flour

1 tsp baking soda 

½ tsp baking powder

1 c. unsalted butter

1 ½ c. white sugar

1 egg

¾ c. mini rainbow sprinkles

¼ c. cocoa powder (For chocolate confetti cookies)

Directions:
Preheat oven to 375 degrees F (190 degrees C). In a small bowl, stir together flour, baking soda and baking powder. Set aside.

I

n a large bowl, cream together the butter and sugar until smooth. Beat in egg and vanilla. Gradually blend in the dry ingredients and sprinkles. Roll rounded teaspoonfuls of dough into balls, and place onto ungreased cookie sheets.

Bake 8 to 10 minutes in the preheated oven, or until golden. Let stand on a cookie sheet two minutes before removing to cool on wire rack.
   Milk Bar puts all the cookies into cute little sealed plastic bags. However, for home cooks, that is a little over the top. I got a custom-made tin specifically for this blog post. Milk Bar's cookies are delicious but so expensive, so why not make them at home for free? Of course, you could always just go to Target and buy them, but that is not nearly as fun