The Controversy Surrounding J.K. Rowling
Rowling promotes Wild Womyn Workshop to her Twitter followers. Users soon noticed a category of merchandise titled "Gender Critical" on the shop's website.
@jk_rowling via Twitter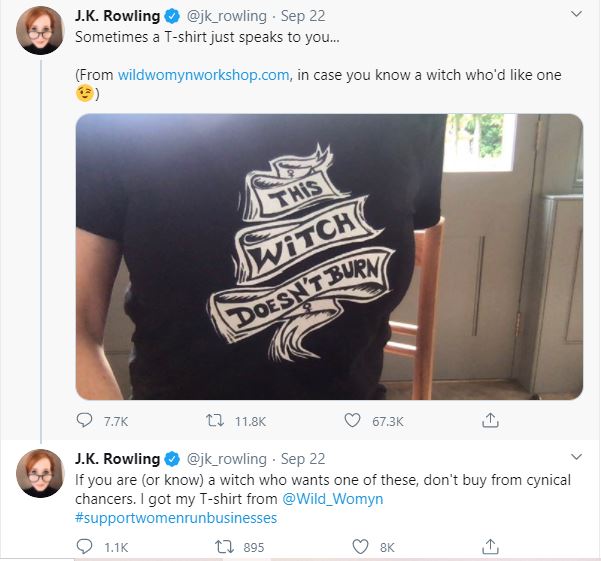 J.K. Rowling gave the world one of the most groundbreaking series of novels in modern times, setting herself up for a lifetime of fame and love from her many fans around the world. However, recently, she has fallen victim to relentless scrutiny and criticism from every corner of the internet.
   As many modern celebrities do when their careers begin to fade out, Rowling became an active social media user to keep up with her brand and her fans. She took a nosedive straight into the "cancel-culture" corner of Twitter when she began tweeting questionable statements about her view on the transgender community.
   The controversy really kicked off in June, when Rowling mocked a news headline titled "Creating a more equal post-COVID-19 world for people who menstruate." She said in a tweet linking the article: "' People who menstruate.' I'm sure they're used to be a word for those people." This began a wildfire of debates about transgender inclusivity and putting Rowling's previously stated solidarity with the transgender community in question. Her name made it to the Twitter trending page that same day due to users talking about it so much.
   Many Twitter users criticized Rowling for trying to take a low blow at transmen and transwomen, but actually hitting cisgender women in the crossfire, pointing out that there are such women that cannot menstruate despite having biologically female anatomy. A popular response to Rowling's tweet, garnering over fifty thousand likes, said "…I wanted to know how Harry's story ended. For a long time, that was all that kept me alive. Until I met my husband who helped me learn to love myself and to want to live. You just insulted him to my face. I hate you."
   Many celebrities also explicitly stated their disappointment with Rowling, including singer Miranda Lambert, who called the tweet "disgusting," and Kim Petras who told Rowling to "read the room," referencing how Twitter was full of Black Lives Matter protest coverage at the time, and that Rowling chose to question transgender identities instead of using her platform to discuss racial equality. The non-profit organization GLAAD even shot back at Rowling's tweet, stating that "in 2020, there is no excuse for targeting trans people."
   Most recently, in late September, Rowling was under fire yet again for directing her Twitter followers to a site that sells blatantly anti-transgender merchandise. On Sep. 22, she tweeted "sometimes a t-shirt just speaks to you…" and linked Wild Womyn's online shop. On the front page of this site is a category of merchandise titled "gender critical." The shop sells various buttons, mugs, and other items that display phrases such as "transwomen are men," "transmen are my sisters," "notorious transphobe," and "transactivism is misogyny."
   Many users on Twitter fired back at Rowling and labeled her as a TERF, which stands for "trans-exclusionary radical feminist." Others said that they are disappointed in her and that she should be ashamed of herself.
   The owner of Wild Womyn, Angela Wild, has since come out and stated that "men are not women. No one can change sex" regarding the controversy. This has made many question Rowling's motive for promoting and supporting a business with such an explicitly anti-transgender message.