A Sit Down With Jeanine Amin: Newsome's New Assistant Principal
Jeanine Amin becomes the new Assistant Principal at Newsome High School
https://www.mysdhc.org/newsome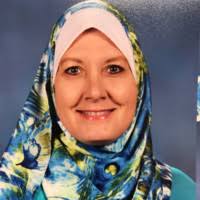 This year is packed with 'new': a new national health crisis, a new method of teaching, a new order to an otherwise normal institution. So it's fitting – rightfully so – that Newsome has a new assistant principal. And with that being said, it's time to get to know her.
   Jeanine Amin, Assistant Principal for Student Affairs: Student Last Names Em-K, has worked as an educator for almost 20 years. Boasting a degree from Southeastern Oklahoma State University, Amin moved to Florida after also living in New Mexico for 20 years, and settled down at Strawberry Crest High School.
   Before joining Newsome, Amin spent 12 years working as an English and Foreign Languages teacher for Hillsborough County Public Schools before becoming the Assistant Principal for Student Affairs at Strawberry Crest. But when transferring over, and seeing the culture at Newsome, Amie said, "it's nice to see a completely different way of looking at things and a whole lot of really cool stuff that I've already gotten to experience."
   For Newsome students, Amin emphasizes bringing "the positives instead of the things that separate us, to building this school together." For the teachers and parents, Amin says she wants to ensure that her support is always present and the community can trust Newsome to educate and teach its kids. Considering her background, it is without a doubt that this won't be so. 
   Linking back to her time as a Foreign Languages teacher, Amin speaks three languages: English, Spanish and Arabic. Using her proficiency in these languages, she says she can better connect and relate to students at Newsome with different backgrounds. And while she might be in administration, Amin says "I love to go to the world language classes because that's still my passion. So I will be in the Spanish classes more than anything else." 
   Having traveled from Columbia to Cuba to Puerto Rico and across the Middle East, from Jordan to Saudi Arabia, Amin bears a vast collection of passport stamps and luggage dents; "I like meeting people from different places."
   With these perspectives, she says it is important for young Americans to understand and appreciate what they have. "We don't always appreciate everything," says Amin, and if it were possible, "I believe that [high school students] should all spend a month outside of the country." 
   But most of all, Amin emphasizes she wants to continue working hard for the school, teachers and parents; while despite not being able to see everyone's faces, Amin says, "I am ready to make a positive experience."