How to Celebrate Birthdays in Quarantine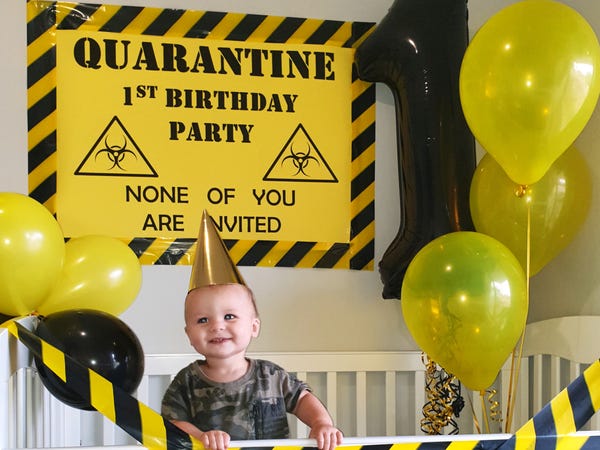 Mia Cafaro, Editor-in-Chief Emeritus
April 23, 2020
The Coronavirus has forced people around the globe to close their businesses, wear masks in public and most importantly, stay home as much as possible. Quarantine life presents many hardships, but a big one that people are facing right now is this: celebrating a birthday during the quarantine.
   Although it is sad that there will be no traditional birthday celebrations during this time, there are still fun ways that people can celebrate while staying a healthy six feet apart.
   One way to get together with friends during quarantine is through Zoom. Zoom birthday parties are gaining popularity and can help to make the day feel more normal and give friends the chance to catch up. Some groups of friends have even thrown surprise parties through Zoom.
   Another way to make a birthday special in isolation is to organize a car parade. Friends and family can decorate their cars, make signs and drive by the birthday boy or girl's house to make the day feel special. This method is also gaining popularity, and people have started to use parades to celebrate other big events, such as marriages and baby showers.
   It is not possible to have a night out at the movies with friends right now, but apps like Netflix Party make it possible to still enjoy a favorite film together. The app allows a group to both watch and chat about the movie, making the experience feel as normal as possible.
   For the younger crowd, companies such as Ever After Princess are offering to have princes and princesses video chat with kids. This is a fun way to get kids excited about their birthday and also gives the parents some time to relax while Ariel or Prince Charming take over entertainment for a little while.
   Simple birthdays at home can be special too. Get the family together for a game night, have a family pool party or set up a picnic in the yard.
   There is no doubt that these are some of the hardest and strangest times that most people have ever lived through. However, as long as people keep celebrating one another and finding things to be excited about, humanity will pull through this pandemic. For everyone who will have a birthday at home- happy birthday.