Newsome Prom Court 2022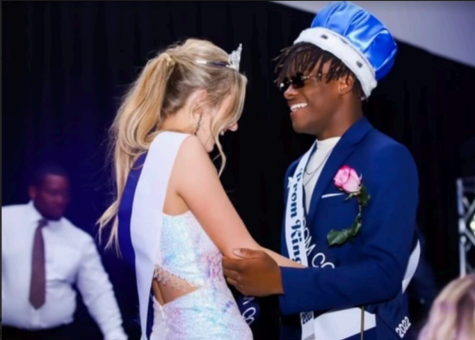 On Saturday, April 9th, Newsome seniors assembled for the final dance of their high school career. The long-awaited Newsome prom took place at the Tampa Convention Center. Students gather to bid farewell to their high school years in one final hoorah before graduation.
   The weeks leading up to prom were filled with numerous events to help students prepare for the big night. Prom tickets were on sale from March 9, 2022 to March 10, 2022. A senior spirit week was announced for the seniors to participate in leading up to prom. Most importantly however, prom court nominations opened March 24, 2022. 
   "I first found out I was nominated for prom court because people told me I made it," says Alli Wallace, a senior at Newsome high school and Newsome's prom queen.
   Newsome seniors were able to nominate their friends for the illustrious prom court beginning on March 24, 2022, in the cafeteria. Many students were nominated, but on March 28, prom court voting started virtually. On April 1, 2022, Newsome's 2022 prom court was announced. The court of 12 seniors consisted of Jadyn Byrne, Katelyn Campbell, Grace Crol, Jimena Del Rio Diaz, Maya Idiculla, Alli Wallace, Cody Basquill, Shaun Blackburn, Luke Haley, Collin Lee, Maverick LeSavage and Sterling Rankin. 
   "I was so excited to go to prom!" says Wallace, "It was our last high school dance, and I knew it was going to be great no matter what."
After the prom court was announced, the voting for prom queen and king was opened for all seniors to participate in. Voting closed at 8 p.m. on April 9, 2022, and the votes were tallied. 
   "My favorite part was seeing all of the overwhelming support from my friends all night. They are truly amazing," says Wallace.
   The time finally came for the announcement of the prom king and queen to be made. The court lined up in front of their classmates and waited anxiously for their names to be called. Sterling Rankin was announced as prom king, and Alli Wallace was crowned senior prom queen for 2022. 
   "Honestly, when I won, I was filled with happiness!" says Wallace, "seeing all my friends scream for me with the biggest smiles is a moment I will never forget."
   As the great high school musical franchise states, prom is "the night of all nights" for no one to forget. Congratulations to this year's prom court and Newsome's king and queen for 2022. AA prom king and queen