Almost Vegan Chocolate Muffins: The perfect Valentine's treat that just might make him like you back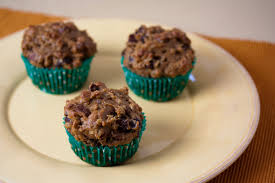 Yield: 12 muffins As the season of love nears, participants begin reaching for ways to display their affection in a tangible way. 
    As inspired by the blogger "Baked by an Introvert's" recipe, these muffins are perfect for this occasion. They can act as a dessert that is not too sweet, or the perfect finger-food for a romantic picnic. 
This recipe uses all vegan ingredients except for the Ghirardelli semi sweet baking chocolate, but one can easily switch that out for their favorite vegan chips. 
   To make the flax egg, put 3 tablespoons of water with one tablespoon of milled or ground flaxseed in a ramekin. Mix and let sit for a few minutes before checking the consistency. It should have a consistency like an egg. 
   More water may need to be added to get the desired effect. Be sure the raspberries have not been thawed prior to mixing them into the batter, as frozen raspberries are much easier to mix in. 
   Finally, depending on how much one likes the bitterness of dark chocolate, mixing additional raspberries after the initial 1 cup may help balance the muffin's flavors even more.
 Ingredients: 
2 cups all-purpose flour 

1 cup granulated sugar 

½ cup cocoa powder, processed

1 teaspoon baking soda 

½ teaspoon salt 

1 cup unsweetened coconut milk yogurt 

½ cup oat milk 

½ cup vegetable oil

One flax egg

3 tablespoons water 

1 tablespoon milled/ground flaxseed

1 teaspoon vanilla extract 

4 ounces Ghirardelli semi sweet baking chocolate 

1 cup frozen raspberries 
Directions : 
    Preheat oven to 400* F In one bowl, mix the dry ingredients- flour, sugar, cocoa powder, baking soda, and salt. Set to the side. 
   In another bowl, mix the wet ingredients coconut milk yogurt, oat milk, vegetable oil, flax egg and vanilla extract. 
    Pour wet ingredients into the bowl of dry ingredients. 
   Sift together until a few streaks of dry ingredients remain. 
   Pour an equal amount of batter into each muffin tin. 
   Bake for 15-20 minutes until a toothpick can be inserted and come out clean. Let cool and enjoy!