The Garfield Renaissance: Why the sudden love for actor Andrew Garfield has sparked
  Recently, the name Andrew Garfield has been popping up all over social media. The British and American actor has become popular during the last few months due to what many fans call the "Garfield Renaissance." 
   To put it simply, the "Garfield Renaissance" is a string of recent projects of Garfield's that grew in popularity due to his acting and singing skills. While most fans know Garfield for playing Peter Parker in "The Amazing Spider-Man'' movies, he is not only known for that franchise. 
   The Golden Globe winner is also well known for playing Jonathan Larson in the 2021 Netflix movie musical "Tick Tick…Boom!" and Eduardo Saverin in the 2010 movie "The Social Network." Fans have also fancasted Garfield to play a young Remus Lupin from the Harry Potter franchise. 
   This begs the question, why are fans all of a sudden being drawn to Garfield? 
   It all started with the release of Marvel's "Spiderman No Way Home." Midway through the film, Garfield's version of Peter Parker travels from his universe to the Marvel universe, meeting with the Peter Parker played by Tom Holland as well as the Peter Parker played by Toby Maquire. 
   Many fans have come out and said that Garfield was the best part of the movie, that the good script made his acting skills shine in a way that they never could in  "The Amazing Spider-Man " movies. 
   This in turn led fans to re-watch all movies and plays starring Garfield. This consisted of "The Amazing Spider-Man" movies, "Tick Tick…Boom!," "The Social Network," "Mainstream," "Silence," "Breathe," "Never Let Me Go," "Death of a Salesman" and "Hacksaw Ridge." 
   What drew in more popularity for Garfield was he began to trend on the social media video platform known as Tik Tok. His roles in "Spiderman No Way Home," "The Amazing Spider-Man," "The Social Network," "Death of a Salesman" and "Tick Tick…Boom!" were all trending. His role in "Tick Tick…Boom!" got him over two million listeners on Spotify. 
   Other than his well known acting and singing skills, fans also love him for personal reasons. Many are attracted to his looks, stating that the 39 year old "ages like fine wine." While most love the actor for his young, happy-go-lucky personality. 
   In interviews, Garfield makes it a pattern to always smile and joke around, staying positive most of the time. Garfield makes it apparent to respect women and advocate for the LGBTQ community. His fans look up to him, often admiring how confident he is with his masculinity. 
   In fact, a video of Garfield kissing Ryan Reynolds at the 2017 Golden Globes recently went viral, drawing in more fans in love with both actors. Garfield then went on to kiss Graham Norton on "The Graham Norton Show," once again always having fun and never hiding who he is. 
   Garfield is, in addition, very committed to his acting. When casted by Lin Manuel Miranda for "Tick Tick…Boom!," Garfield could not sing. So to prepare for the role, he took a year's worth of singing and piano lessons so he can accurately portray his role as Larson in the movie musical.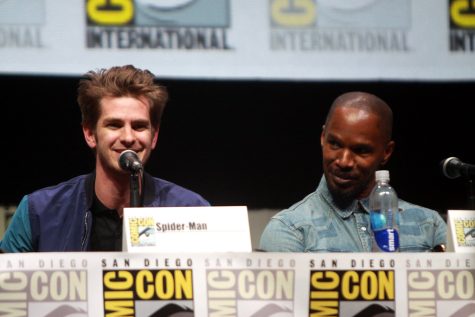 Garfield has done amazing things in his life, and he is now finally getting recognition for all his hard work. The fans now discovering him do not just see him as the "cute Spiderman actor," but as a role model to look up to. He reminds fans to stay positive, be confident in who they are and to always stay committed to the things they love, no matter how challenging it might be.