Newsome Giving Back: The many ways Newsome plans to impact the community this holiday season
Every year Carlos Somallan and his students host the "Operation Christina's Angels' toy drive. Before winter break, criminal justice students come together and give toys to children in need.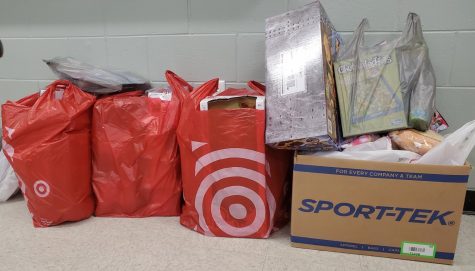 This holiday season, Newsome has decided to give back to the community in more ways than one; from toy drives to Angel Trees, Newsome students and staff are coming together to help those in need of a smile. 
   For the past six years, the current criminal justice teacher and former Hillsborough County Detective , Carlos Somallan, has run a donation toy drive titled "Operation Christina's Angels," named after his daughter who tragically died of cancer eight years ago at age 29. Somallan founded this donation drive as a way to fulfil his last promise to his late daughter to make a change. 
   "After I made the promise, I had no idea how I was supposed to fulfil it," said Somallan. "It then hit me while I was teaching. I needed to use my kids to help." 
    Running from Nov. 29 to Dec. 27, every year from the day right after the end of fall break until the second to last day before winter break, Somallan and his criminal justice students collect toys for all the children suffering with cancer. They collect toys for all ages, ranging from infants to 17 years old. 
  "When these kids receive a toy, they are overjoyed. It helps them take their minds off their ongoing battle," said Somallan. 
    On Dec.15, Dec.16 and Dec.17 he and his students will distribute the toys to three different hospitals in the Tampa area. This year, Somallan's goals are to get  over 600 toys donated to the children in need and to collect more toys for the younger kids, Specifically more dolls and action figures. 
   "I have the best students,"  Somallan states. "All I need is Criminal Justice," he says. 
    "Operation Christina's Angels," is not the only toy drive occurring at Newsome this year. JROTC instructor Colonel Eric Deal is hosting "Operation Fallen Angel," which is an angel tree program that donates toys to kids who are in finally unstable situations and do not have the money to afford toys they wish they could have. 
   "Being able to provide Christmas presents to children in need is the most enjoyable part, " says Colonel Deal. 
   This year's "Operation Fallen Angel" starts collecting toys from Dec.6 to Dec 10. and they deliver all donations to the kids between Dec.22 to Dec.23.  "Operation Fallen Angel" collects toys for kids of all ages, more specifically from infancy to 12 years old. 
   Every year students donate new, unwrapped gifts and then deliver them to the Ministry of Hope Donation Center. Gifts are also donated to A Kids Place located in Tampa. 
    Last year, "Operation Fallen Angel"  received 353 gifts from Newsome, this year's goal is to get over 200. Gifts can range from toys, books, clothes and electronics. 
   Though Deal is hosting "Operation Fallen Angel," for Newsome's JROTC program this year, it was founded in 2001 by Renee McGuire, a Pearland business owner, to help friends who were struggling to find appropriate services for their adult children with disabilities.
   The Newsome Student Government Association is also hosting a small drive for kids at Jackson Elementary school. Students from each first period are encouraged to not only donate toys, but school supplies and toiletries as well. 
   If toys are donated, SGA wishes that they must be small enough to fit in a shoe box. Their goal is to help the students at Jackson Elementary as much as they can.  
   Every year around this time Newsome tries its best to help the community in any way they can. Whether it includes helping children suffering from illness, kids with financial issues or schools that need help. The holiday season is about giving, so that's what Newsome students and staff are determined to do.