What to Expect at Halloween Horror Nights 30
Universal Studios' art design for their Beetlejuice house announcement for Halloween Horror Nights 30. This has been the only house they have officially announced, which can be found on the Horror Nights website.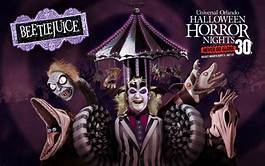 Halloween Horror Nights is an annual event that takes place at both Universal Studios in Orlando and Hollywood. It normally starts in the middle of Sept. and goes all the way through Oct. Guests pay to experience the parks at night, where they can experience scary mazes, scare zones, food and shows to celebrate the Halloween season. While Halloween Horror Nights didn't happen last year due to COVID, it is still set to go this year for its 30th-year commemoration. 
   While many details haven't been released yet, insiders have been able to find out information on what to expect this year at Halloween Horror Nights. For starters, every year a speculation map is released months before everything is announced. The speculation map's purpose is to show the mazes that could possibly be at the event and where they are located, along with the scare zones and where they are located. While these maps are unofficial, they normally all turn out to at least have some truth behind them, which is why fans of the event look forward to them each year.
   For Halloween Horror Nights 30, the speculation map has already been released and the lineup has a lot to offer. "Beetlejuice," (which has been the only house to be officially announced for the event by Universal Studios) "The Bride of Frankenstein Lives" and "Revenge of The Tooth Fairy" will possibly be returning to the event even after the testing done on them last year during the day (guests were able to go through them during the day to check on COVID-19 safety). Some of the other mazes that have a lot to offer are "The Texas Chainsaw Massacre," "The Haunting of Hill House," "Puppet Theatre: Captive Audience" and "Creep Show." The speculation map also released some scare zones, such as "Terra Cruentus" and the "30th Anniversary Zone."
   While it's only a speculation map, most of the time it shows a lot of truth on what to look forward to. While none of it has been officially confirmed besides Beetlejuice, it still gives fans something to ponder on and holds them over until more of the event is announced. But if the map does turn out to be true, the 30th year of Halloween Horror Nights will be one to remember.