How Newsome Theatre is Navigating The Pandemic
The Theatre logo and Troupe number. The 6623 was given as a representative number of Newsome theatre.
Newsome Theatre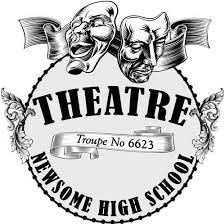 With the world having it's "Freaky Friday" moment with COVID-19; the performing arts aren't what they usually are. Especially theatre, millions of people attend live productions a year and Broadway has gone dark until 2021 due to the pandemic. Our local theatres are dark, so are most theatre programs at school.
   At Newsome, the dramatics program hasn't gone fully dark; still trying to keep that spark alive, the program is putting on multiple productions that can be done virtually. Still getting the experience as if it were a live dramatic production. 
   With performances being live; the program has to change the ticketing platform so that shows can be sold virtually as important. 
   The program is doing their production of "Oz" and "Everything Seem Like Maybe" and by spring, they are hoping to be live for their musical. Theatre students are eager to find out what production they will do.
   The amazing Artistic Director Dr. Chad Cornwell, is determined to keep dramatics alive during these difficult times. 
   Dr. Cornwell wanted to have a fall season, unlike all the other school programs that shuttered at the idea. He said that the students are the ones who need and want it the most; that is what kept him fighting for a fall season. So, the program opted to go virtual to keep the very thing that makes so many people happy. "We had to make strategic decisions to make it all possible, " He says.
   He also talked about the way he sees the performing arts going this year. He sees things going very well and that events are currently going very well.
   COVID-19 has definitely taken a toll on many other theatre programs; some programs aren't reopening for a fall season. 
   Still, with determined and strategic people running the ship will create solutions for the problems being faced this year. The theatre program also has a student leadership helping steer the ship as well. Leadership positions consist of a President: Mia Scaringe, Vice President: Jocelyn Wyatt, Historian: Lexi Nicolet and Carson Cornock, Treasurer: Jake Perez, Social Media Director: Carson Cornock with so many more roles. 
   This helps Dr. Cornwell make those decisions based on the student perspective. This year as well as their productions will be absolutely outstanding, as they never fail to disappoint.