Rewriting Postseason History
Arozarena scoring the game-winning run. Tying the world series to 2-2.
USA today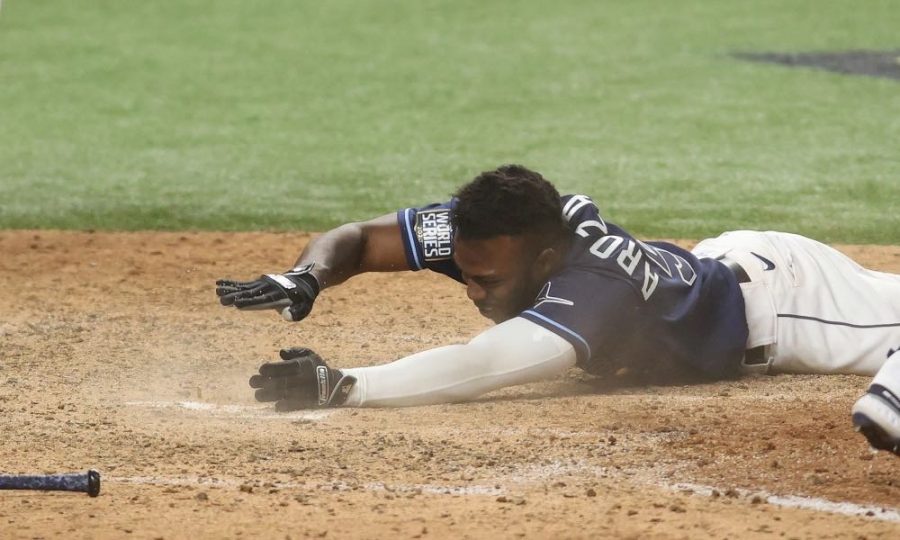 Randy Arozarena has just made MLB postseason history. The young slugger just passed Former MLB player Barry Bonds in the most home runs hit in the postseason. 
   Arozarena is in the first postseason of his career and is showing his true future talent. He currently has the highest batting average for the Rays this postseason including the record-breaking nine home runs he has slashed this postseason. 
   Just days before, the record which was held by Barry Bonds was passed by Los Angeles Dodgers infielder Corey Seager.  He also made Rays history passing longtime leader and former face of the franchise Evan Longoria. Who also spent a portion of his rookie season in the postseason with the Rays in 2008.  
   Longoria holds most of the records for Tampa Bay from the looks of it, Arozarena may pass more of those records.  
   Arozarena was acquired by Tampa Bay in the offseason earlier this year. At the time, the "Jose Martinez trade" showcased a trade between the Rays and the Saint Louis Cardinals. 
   The Cardinals would acquire top pitching prospect Matthew Liberatore and a player to be named later while the Rays acquired Martinez and Arozarena. 
   At the time, the trade was to fill a void for Tampa bay offense and use Martinez as the designated hitter. Arozarena was to be used as a replacement outfielder. This seemed to not work out for the Rays as Martinez never broke through in hitting and Liberatore was pitching very well. 
   That all turned around when the Rays traded Martinez to the Cubs and called Arozarena up to the Majors. Immediately, he began to hit the ball well ending the regular season with a .281 batting average with 18 hits and seven home runs through 23 games. 
   It did not stop there. Arozarena would continue his tear into the postseason where he currently has 9 home runs and carries an incredible .377 batting average.
   Tampa Bay is hoping Arozarena can carry this line into the 2021 season as the much-needed offensive bat which has been an issue for the Rays for months.  
   Many Tampa fans should be excited for Arozarena in the coming years as he will be a major influence for the Rays for many seasons to come.