Netflix's "The Prom" Set to Release in December
In a newly released photo, James Corden and Meryl Streep sing together on top of a table. The two actors have performed alongside each other before in the "Into the Woods" movie adaptation.
Netflix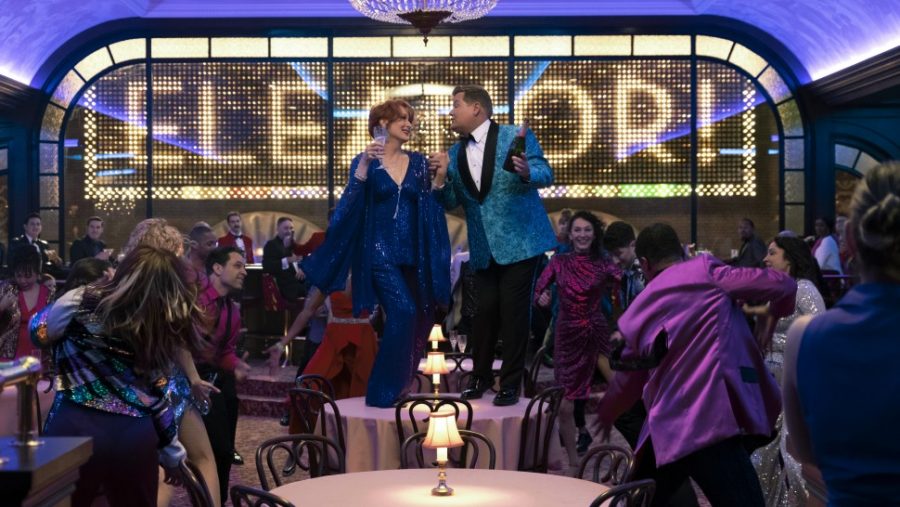 Netflix recently released more information regarding its movie adaptation of "The Prom," a Broadway musical that ran from fall 2018 to summer 2019. New photos have also revealed some of the costumes and cast dynamic between the actors. 
   The new movie features many A-List Broadway actors including Meryl Streep, Andrew Rannells and James Corden. It is set to release Dec. 11, which will be about a year since the film began production. The original release was planned earlier, but production was halted due to the pandemic.
    "The Prom" follows Emma, an Indianan whose school cancels her prom because she wants to take her girlfriend, and her journey to "build a prom for everyone." After narcissistic Broadway-stars Dee Dee Allen and Barry Glickman's Eleanor Roosevelt-based musical closes opening night, they decide to find a cause to support in hopes of bettering their image. They join two other actors to work with and come across Emma's story, inciting the two-hour, two-act musical, raved about by New York Times critic Jesse Green that ". . .its kinetic dancing, broad mugging and belty anthems. . .makes you believe in musical comedy again." Although it did not win any Tonys, it was nominated for seven, including Best Musical.
    Streep, who is famous for her performances in countless films such as "The Devil Wears Prada," "Mamma Mia!" and "Little Women," plays the role of Dee Dee Allen. She has been active on Broadway since 1975 and has Academy Awards, Golden Globes and one Tony to her name.
    Barry Glickman is played by Corden, best known for his talk show "The Late Late Show with James Corden." He has one Tony for his lead role in "One Man, Two Guvnors" and starred in the movie adaptation of Sondheim's "Into the Woods."
    Rannells, who plays the Juilliard-graduate Trent Oliver, won the award for Best Performance by a Leading Actor in a Musical for his role of Elder Price in "The Book of Mormon." He recently starred as Larry in the Netflix adaptation of Broadway's "The Boys in the Band."
    The movie is directed by Ryan Murphy, who brought the world "American Horror Story," "Scream Queens" and Netflix's "The Politician."
     Theater fans everywhere are excited for more accessible theater-content, whether it is on stage or the big screen. Or, in this case, the big television or laptop.