Prom 2020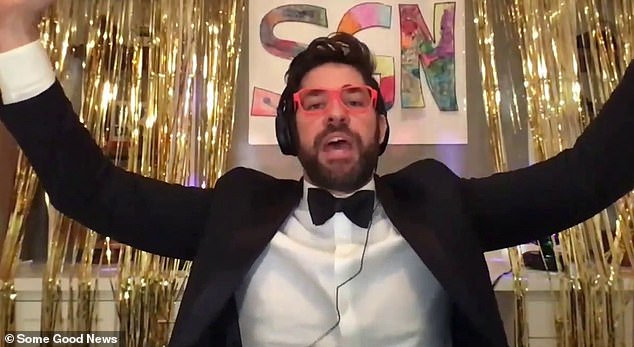 As a result of social distancing restrictions, plans were cancelled worldwide: weddings, concerts and the highly anticipated senior prom. But to ease their disappointment, actor John Krasinski hosted a special event in honor of all those missing out on the special occasion, Prom 2020.
   Krasinski invited all high school seniors to enjoy his live stream prom on his YouTube channel, "Some Good News". 
   Krasinski decorated his room in gold streamers and glow sticks while sporting a tux and pink glasses to create the quintessential party ambience. 
   While streaming, he was joined with numerous artists to perform; Chance the Rapper, the Jonas Brothers, Billie Eilish and Finneas all gave signature performances to bring the zing to the party. As the artists performed, seniors around the world boogied to their own personal concert.
   The inspiration for this commemorative event came from Marli Odgers, a senior in Alabama whose dad hosted her own prom at home. Marli's dad decided he couldn't let his daughter miss her last formal dance and concocted the perfect recreation. The heartwarming video of Marli and her father sharing a dance was so touching, Krasinski was moved to create his own prom. Before the live event, Krasinski invited Marli and her dad to help deejay the party and meet some of his friends for being such a model of encouragement during this difficult time.
   As the party came to a close, Krasinski sent words of encouragement to all the seniors during this hectic time. With the world in a panicked frenzy, the senior prom seems like a minuscule problem. But Krasinski, and many others around the world, would not rest til the class of 2020 received their well deserved prom. Designing a stay at home prom was a creative and safe way to bring joy and excitement in the midst of worldwide fear. As a result, it would only seem fitting to host "the craziest, weirdest prom", as Krasinski described it. 
   His touching event gave a prom to the many seniors that were robbed of their final high school dance. Thanks to Krasinski's disco balls and dance moves, the class of 2020 received their prom, and the world some more good news.