Baylor v UF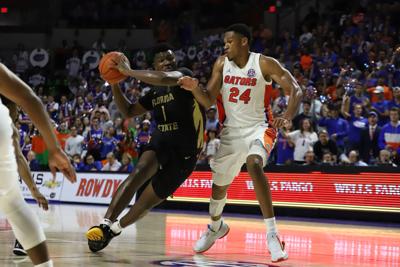 Saturday, January 25th, The Florida Gators took on the Baylor Bears at the O'Connell Center in Gainesville for a Big12 SEC college basketball showdown. The bears were going into the game strong with a 16-1 record, along with being ranked number one in the country. The gators, on the other hand, have struggled a little this season, going into this game unranked with a 12-6 record.
The gators came out hot at the beginning of the game, scoring first and taking a nice 10-point lead for almost the first 10 minutes of the game. As many know, basketball is a game of runs, whoever is hot will continue to score until they are stopped, which is exactly what Baylor did, they stopped the run and matched the Florida game pace.
About ten minutes through the first half, the Bears took the lead 27-25, the gators starting to struggle to keep the Bears offense bottle up. This lack of defensive capability gave the bears a chance to pull away at the end of the half. The Bears led at halftime 40-29.
The bears continued this run in the second half, profiting off the gators long scoring drought at the beginning of the half. The bears took a large 16-point lead and kept that lead from the middle of the second half almost to the end of the game.
The Gators closed the gap a little to 11 as time expired, the bears winning 72-61. The key factor that hurt the gators was free throws; there was a point in the game where the gators missed five free throws in a row. That is not how you beat the number one team in the country.
The major difference between the two teams had to come down to free throws. The gators were matching the bears throughout the game on many levels, but when it came down to shoot at the line, Baylor had the upper hand. It was a great battle of the Big12 and the SEC, and the Big12 came up on time this time around.