The London Bridge Attack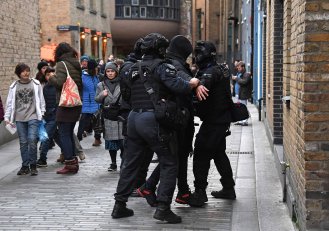 On November 29th, 2019, two people were stabbed to death, and three others were wounded just north of the London Bridge. The perpetrator was Usman Khan, 28, working with a terrorist group. Khan had been released from jail on license in 2018, half-way through a 16-year sentence for terrorism offenses.
Khan's attack began inside Fishmongers' Hall. Members of the staff fought Khan and attempted to hold him back as he was believed to be wearing a bomb and had possession of several knives.
Khan stabbed Cambridge University graduates Jack Merritt, 25, and Saskia Jones, 23. The victims were there with Learning Together, a network of academics and criminal justice organizations. Merritt, from Cottenham in Cambridgeshire, was a coordinator, and Jones was a volunteer.
Jones's family and friends pay tribute to her and give honor her name with great respect. Merritt's father says his son was "a beautiful spirit who always took the side of the underdog." The families are grieving in shock of the terrible attack.
Three others, a man and two women, were wounded in the event. The two women are in stable condition in the hospital, and there is no word of the third victim.
In an effort to drive him out of the building, men used chairs, fire extinguishers, a pole, and a narwhal tusk hanging from the wall. Khan finally leaves the building and is chased by members of the public toward the Bridge. The law enforcement soon arrived, and Khan was shot by a police officer.
As a result, a political debate emerged, wondering why Khan was released from jail in the first place. Many are wondering how the prison systems are working and what happens when people like Khan are let out on the streets. People are saying that the prison needs to be funded more generously so that rehabilitation can take place in a controlled environment. Civilians are astonished that people similar to Khan are allowed jail release and fear for future attacks.