The Tampa Bay Bucs are Moving Forward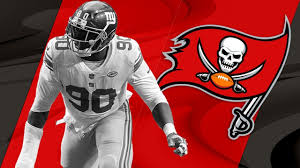 The Tampa Bay Buccaneers success in this NFL's season is slim to none with their record being 3-
Six lead by quarterback Jameis Winston, former Heisman Trophy winner, and quarterback at Florida State
University. Discussion about their future is in full effect around the Tampa Bay area on what they will do
to produce better results for the franchise, over possible drafting of a new quarterback in the upcoming
2020 NFL draft.
Whenever a team is losing, the first instinct for the fans is to blame the quarterback because
they are the leader of the team, and "should be" the cause of their losses. With Jameis Winston, a fourth-year quarterback with the Buccaneers is brought into question on whether or not they will move on with
him as the quarterback and leader of the team.
"I think that Jameis is still a young quarterback and is still learning the game. I believe that there
has been little progress that Bucs have made in the past four years, with Jameis as quarterback and I
think it is time for the Bucs to pick up a new franchise leader in the upcoming draft," said senior, Kyle
Sellers.
Because of the lack of success of Tampa Bay in the NFL, it has caused the team not to play as
hard as they should be with the recent releasing of DB Vernon Hargreaves all, who was drafted 11th
overall in the 2016 NFL draft by the Buccaneers, over a lack of hustle during games, which questions
whether the Bucs have the drive to do well or if there is a lack of leadership on the team.
"The fact that the Bucs have released one of their top drafts picks this season shows that the
the franchise is slowly falling apart, and there is an urgent need to pick up a new leader switch up the attitude
of the team," said senior Ben Connelly.
Many Bucs fans have their eyes peeled for new leaders in the quarterback position such a
potential pick up of LSU's quarterback, Joe Burrow and potentially Tua Tagovailoa, quarterback for
The University of Alabama.