The El Salvador Agreement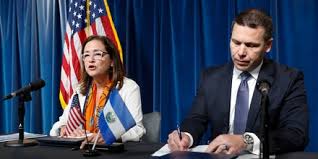 According to a senior official on President Trump's administration, the United States has signed an agreement that may be used to further the process of allowing those searching asylum to the United States to be sent to El Salvador on Friday.
Acting Homeland Security Secretary Kevin McAleenan signed the agreement with Alexandra Hill, the Salvadoran Foreign Minister. This occurred on Friday in Washington, D.C., but no details about the accord or time of implementation were mentioned.
McAleenan had recently traveled to El Salvador for talks with El Salvador's President about the subject of migration and development of economies in Central America.
McAleenan said, "today we're very happy to announce the signing of this cooperative agreement between the United States and El Salvador to build protection capacity." He also stated that the goal was, "to further our efforts for opportunities to seek protection for political, racial, religious or social group persecution as close as possible to the origin of the individuals who need it."
McAleenan stated, "the core of it is recognizing El Salvador's development of their own asylum system and a commitment to help them build that capacity."
U.S. officials say that the United States will provide help to the growth of asylum systems in nations around El Salvador.
McAleenan and Guatemala came to a similar agreement in August, but the plan has not yet been put in place. However, many say the El Salvador agreement will have a different impact because of the President's impressive approval rating.
Details of the agreement are still being processed, and it will likely take weeks or months before the agreement can officially be put in place.
Many are concerned about his agreement because it means that asylum seekers may be sent to El Salvador when many of those seeking asylum are trying to escape the same country.
El Salvador has had issues with violent crimes; many are worried that the country is unfit to function as an asylum. In a government study supported by the United Nations, it was found that about 150,000 Salvadorans became refugees or have sought asylum recently.
However, El Salvador's President has worked to quickly bring down these numbers and make the country safer.