Amazon Rainforest Fires Aren't the Only things Heating Up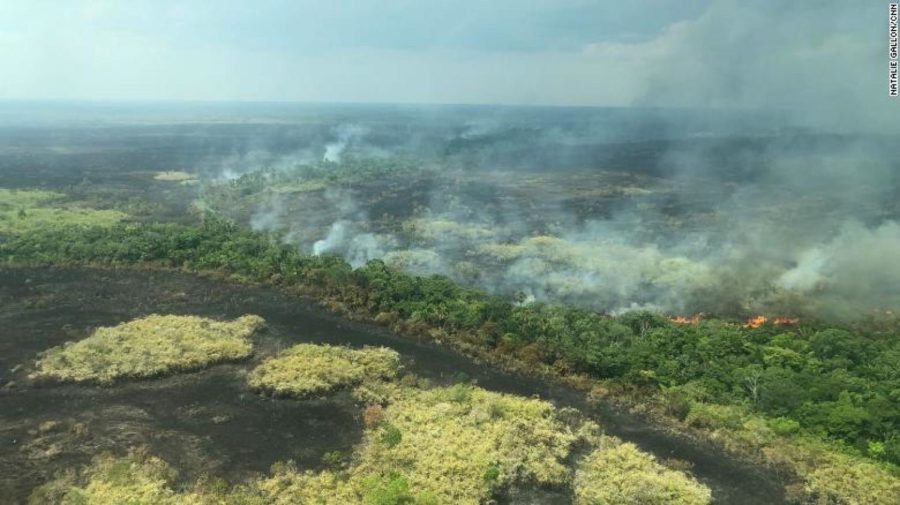 The world's largest rainforest is burning at an alarming rate, and that is causing rhetoric from global leaders and environmentalist to heat up over the weekend. People are trying to figure out who is to blame for the raging fires and rising deforestation in the Amazon.
Many believe that Brazilian President Jair Bolsonaro and his lax environmental policies are directly to blame, and that led to numerous protests and public condemnation.
On Friday, French President Emmanuel Macron referred to the Amazon fires as an "international crisis," and directly called on global leaders at the G7 meeting to join together and put pressure on Brazil to protect what he referred to as the "lungs of our planet."
Macron also threatened to kill a significant European trade deal and pushed for boycotts of Brazilian products. Macron wasn't the only leader sharing concern for the Amazon fires, though. Pope Francis also chimed in while addressing a crowd at St. Peter's Square on Sunday, asking everyone to pray that the raging wildfires in the Amazon are controlled as quickly as possible.
All the uproar caught Bolsonaro's attention, as he took a rare step of mobilizing Brazilian forces to help combat the fires and he even claimed that protecting the rainforest is Brazil's primary responsibility. This was a reversal of opinion for Bolsonaro, who previously had been dismissing growing concern over what environmentalist are claiming is an ecological disaster.
The Amazon is located across several South American countries and covers more than 2 million square miles. Nearly 60% of the Amazon is located in Brazil, and it is believed to produce 20% of the world's oxygen. According to Brazil's National Institute for Space Research, there have been nearly 40,000 fires throughout the Amazon this year, and 74,000 more across Brazil, which is the fastest rate in nearly a decade.
While this isn't the largest fire incident that has raged in the Amazon in recent years, there is a growing concern that deforestation and development could permanently destroy the Amazon Rainforest and eliminate this vital resource in future years.
While there was no shortage of condemnation about the raging fires over the weekend, President Trump notified Bolsonaro to let him know that the United States can help Brazil and stands ready to assist.