Red Tide is having a great effect on Labor Day plans
Hang on for a minute...we're trying to find some more stories you might like.
Labor Day is one of the most tourist friendly days in Florida, but this year many people are changing their plans of going to the beach because of Red Tide. During the holiday weekend, thousand
s of people come to Florida to experience the sandy white beaches and clear blue water. Instead of the crystal clear water, this year, you might find yourself looking at dead fish or red or green algae due to the effects Red Tide.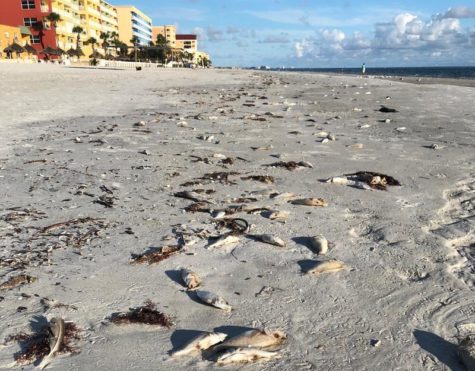 Red Tide is a naturally occurring bloom of toxic red dinoflagellates, which happens almost every year in the Gulf of Mexico. This bloom does not affect humans as much as much as it effects marine life. As residents of the Florida coast walk up and down the beaches, they see terrifying things that would devastate an individual.
Junior Tyler Morgan went to Sanibel Island beach, one of the hardest hit places, shortly after the algal bloom. "It was one of the craziest things I have ever seen. There were dead fish lining up and down the beach, almost like the water was like some sort of poison" Morgan said.
This sight has made many people question whether they should vacation to Florida, with the risk of coming to the beach and possibly getting sick because of the algal blooms. Red tide isn't life threatening to humans but has been proven if swam in, to cause bad skin irritation and burning eyes.
"The thought of the harm that red tide can potentially do to humans has changed my family's plans for Labor Day. We were going to rent a beach house at Anna Maria but because of Red Tide and what we have seen and heard on the news our plans have changed" said Saylor Webster, a Sophomore at Newsome.
Over the course of the beach cleanup, the state of Florida has picked up more than 2,000 tons of dead marine life. The effort to clean up the beaches before Labor Day has costed over 8 million dollars to restore the beach to make the tourists feel better about coming to the Florida beaches during the national holiday.