Battle of the Binge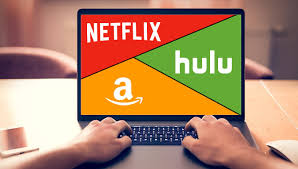 In our current age of social media and entertainment, streaming platforms such as: Netflix, Hulu, Amazon Prime Video, etc., have become a staple in the lives of many people. All these services have their own unique features that appeal to different users. With all these options, many struggle to find the option perfect for them.
   Netflix was created in 1997 by Reed Hastings and Marc Randolph as an online movie rental service. As 2007 hit, Netflix introduced streaming to its platform, allowing users to watch movies and television shows instantly, and became available on tablets, phones, and other internet connected device by 2010, which led to a monopoly in the world market by 2016.
   Netflix now has become one of the most well-known streaming services throughout the world with over 130 million subscribers and 430 award nominations for their Netflix Originals. The platform offers over 5000 title films and television series with more being adding or taken off each month, as well as different subscription plans, the premium plan at $13.99 per month, the standard plan at $10.99 per month, and the basic plan for only $7.99 per month.
 Netflix offers a variety of shows and movies for people of all ages such as F.R.I.E.N.D.S, Thor Ragnarok, Coco, and much more. Netflix also offers a kids channel which filters PG movies and shows so parents can regulate what their children can and can't see.
   Amazon Prime Video launched in 2011 by Amazon, allowing subscribers to access over 5,000 movies and television shows at no addition cost. Prime Video allows users to purchase subscriptions to Showtime, Starz, and other entertainment channels through the service.
   Prime Video offers different shows, movies, and prime originals for $12.99 per month. Prime Original shows came about in 2013 and has been offering shows like, The Marvelous Mrs. Maisel, The Tick, Goliath, and more.
   In 2008, Bruce Campbell, Peter Chernin, JB Perrette, Michael Lang, Beth Comstock, and Jason Kilar launched Hulu as a new streaming service, offering mainly television shows to be watched. In 2009, Hulu partnered with The Walt Disney Company and continued to partner with other companies, such as 21st Century Fox, Comcast (NBCUniversal), AT&T (WarnerMedia), and many other companies, throughout the years.
   Hulu has now become one of the leading premium streaming services for $7.99 per month. The service offers original series, like The Handmaid's Tale, a variety of new and old television series, movies, and childhood favorites such as Hey Arnold!, Drake & Josh, and Chowder.
  Netflix, Prime Video, and Hulu all offer their own unique shows and capabilities that would be suitable for any viewer depending on what you choose to watch.