Newsome cheer's fight for states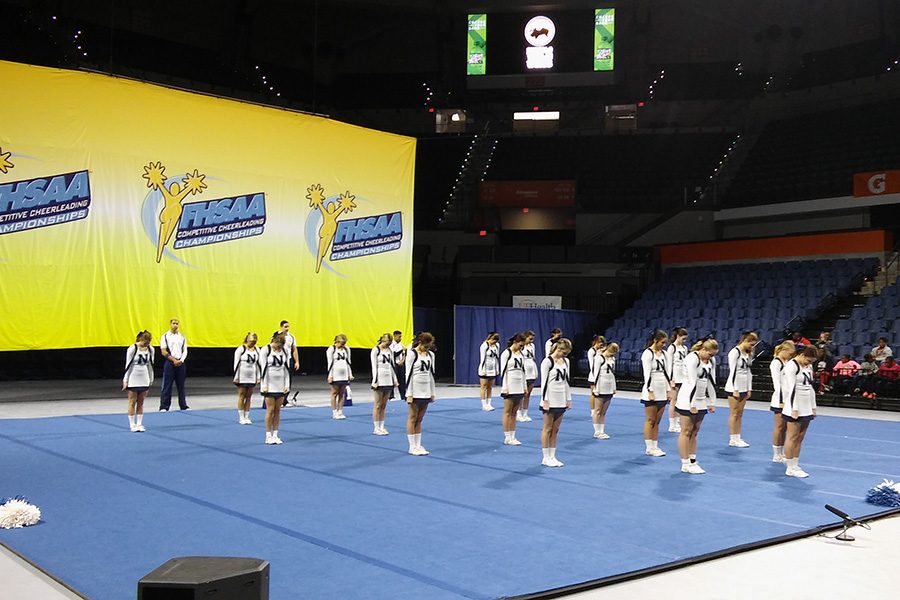 Challenges were constantly  thrown at the Newsome Cheerleading Team during their road to States, but co-captain Sava Pleak and senior teammate Cori Garrison chalk up their success to how the team is a family.
Besides a great depth of talent, Pleak believes the bond the cheer team has is what makes them the third best team in Florida. She states "I started off the season with a lot of team bonding and I thought that it really would help the team grow."
By creating strong friendships in the beginning of the season, the team was able to push through all adversity thrown their way. "It made our team like a family and it helped the situations when times were tough because towards the end of our season we had a lot of injuries," said Pleak.
Newsome's competitive cheer team faced two injuries during states, and state of panic arose when sophomore Olivia Rhodes broke her wrist. However, they persevered and practiced merely hours before the spring pep rally, and were able to fluidly perform their revised set.
Another injury to co-captain Rachel Small was a major setback to the team but they were able to make adjustments for their final performance. Small's co-captain Pleak says, "Most teams would fall apart because of the pressure and how stressful it was but we came together and made it work."
Senior teammate, Cori Garrison, helped the team through the chaotic situation. Garrison reassured everyone throughout these stressful conditions, "I mainly told everyone to not freak out because a lot of people's stuff didn't change so I told them to remain calm for the girls that had to learn the new stuff."
Garrison saw the focus in the the eyes of all the girls as well as the seriousness of the circumstances preparing for their last performance in Gainesville. "Near the end we all had to pull together and really focus, and I think that's why we did so well at states," Garrison says. It clearly paid off as that performance won the Newsome competitive cheer team the title of being the third best team in Florida.
It was an emotional performance for Newsome's competitive cheer team. Pleak recounts what happened, "We hit perfectly and I think it was so rewarding because that's the first time we've had a solid and perfect routine. Everyone, like everyone, was crying at the end."
Co-captain Pleak was very proud, and she feels she has been a positive and moving force for this team. Pleak says, "It made me feel like I did my job as a captain because I saw the underclassmen crying which means I passed down that they cared about the team."
Growth, was the word both seniors used to describe this season. Garrison said, "This year it felt like everything changed. We became way more competitive. We kept pushing each other. We kept improving."