Heisman candidates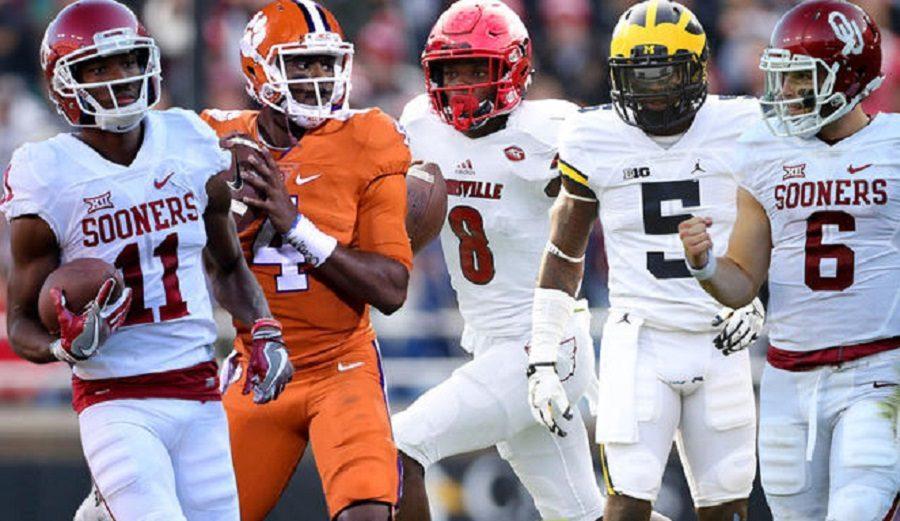 Every year the Heisman Memorial Trophy is awarded to the most outstanding player of the college football season. On Saturday, December 10th, the prestigious college football award will be presented for the 82nd time, in New York City. The presentation will be broadcasted live on ESPN at 8 ET.
The finalists this year are Lamar Jackson (Louisville), Baker Mayfield (Oklahoma), Jabrill Peppers (Michigan), Deshaun Watson (Clemson) and Dede Westbrook (Oklahoma). This marks the fifth time since 1995 that two top five candidates have played on the same team, and the first since 2008.
The heavy Vegas favorite is currently Lamar Jackson with -4000 odds of winning. Deshaun Watson is behind him with odds of +1000, followed by Baker Mayfield at +3300 and Jabrill Peppers at +5000.
Jackson has certainly earned the favoritism for the trophy as he finished the regular season with 4,928 total yards and 51 touchdowns. He is the sixth quarterback in college football history to record 20 passing touchdowns and 20 rushing touchdowns in a single season. At one point it was considered his to lose, but that no longer the case given to his recent performances. Critics argue that a few tough losses and a four turnover performance that resulted in a loss to Kentucky in his final regular season game, could cost him the trophy.
Deshaun Watson has been quietly successful this season, earning him consecutive trips to New York as a finalist. Watson is currently sitting with 3390 passing yards and 37 touchdowns. What could give him an edge over Jackson is his superior passer rating, better performance in recent games, and a coveted chance to play for a national championship.
Baker Mayfield has also had a terrific season and has performed even better in his last few games. Mayfield leads the country in passer efficiency and has the fewest turnovers of the three quarterbacks in consideration. What could earn Baker Mayfield enough votes to win would definitely be his clutch performances late in games, and how efficient and effective he is when he has the ball.
On the outskirts of the competition is Michigan's utility player Jabrill Peppers, who has done almost everything for the Wolverines this season. He has played all seven of the back positions on defense and gotten quite the workload as a running back and wildcat quarterback. While he is primarily a defensive player, his talents at special teams and scoring while in the red zone would need to be given a lot of credit if he were to come out of nowhere and win the award. Unfortunately, many say that Michigan has padded his stats with many easy goal line carries, and that could be the nail in Peppers' Heisman coffin.
A strange Heisman race will come to an end Saturday night, as one of these players will be handed the 25 pound trophy, and named the most outstanding player of the college football season. No matter who wins, there will be discrepancies, but may the most deserving player win.